We undertook a transformative challenge for Gems. Faced with the aftermath of weather-damaged signage, our ingenious solution was nothing short of remarkable. We didn't merely replace signs; we wove a visual narrative that exuded trust and authority. With three expertly crafted 3D Fabricated signs gracing Gems' head office in Pretoria, our adept touch, a seamless blend of confidence and finesse, has etched an enduring legacy into the heart of the brand.
AGM Newsletter Print & Distribution
We had the opportunity of managing the entire AGM Newsletter process, including designing proxy forms, envelopes, and GM Member guides, we left an indelible mark. Custom-printed with precision, each piece carried a return address, ensuring professionalism and reliability. The distribution, spanning both postal and individual deliveries for 200,000 copies, solidified our role as a trusted and dependable partner, making Gems' AGM materials a beacon of excellence.
GEMS Coffee Table Booklet (Design & Print)
For Gems, we didn't just create a coffee table booklet; we crafted an immersive journey through Gems' rich history, origins, and essential facts. Beginning from scratch, we utilized Gems' corporate identity, masterfully blending copywriting and infographics into a cohesive narrative. The result: a high-quality book, meticulously printed and expertly bound with a durable hardcover. This masterpiece now graces Gems' office receptions nationwide, a symbol of the enduring partnership between Gems and Three6ixty, and a testament to the exceptional quality that defines both of us.
Expo Stand Design & Build – BHF Conference 2022 CTICC Cape Town
Our exceptional work for Gems in crafting bespoke expo stands went beyond mere design; it became a transformative experience. These stands weren't static structures; they were immersive brand journeys, skilfully interweaving Gems' narrative. At the BHF Conference in Cape Town, held at the CTICC for three days, our expertise was on full display. We conceptualized, designed, manufactured, and seamlessly executed the expo stand, leaving a lasting impression and reinforcing Gems' brand as a standout presence at the event.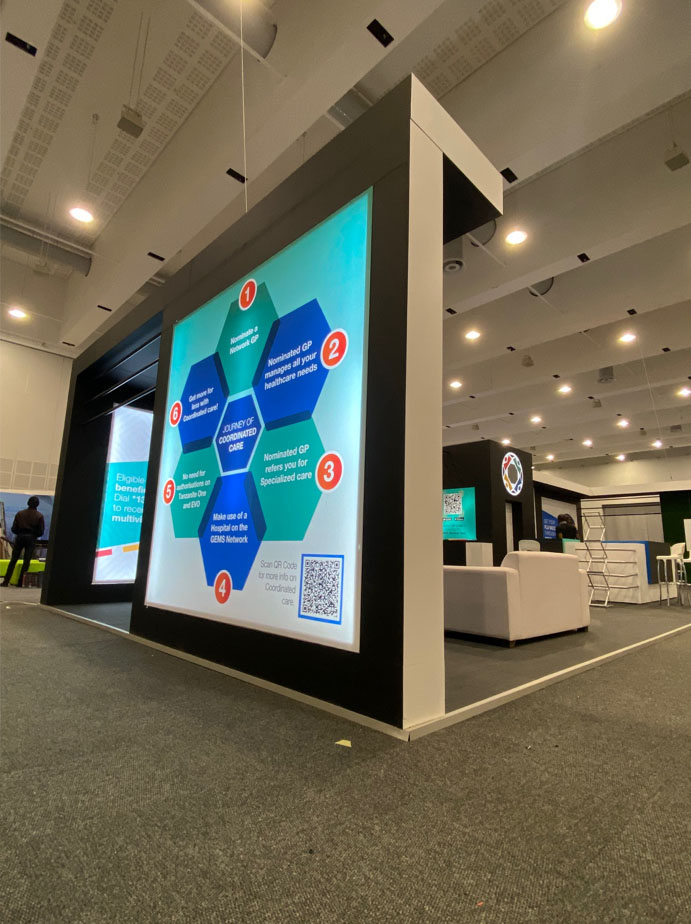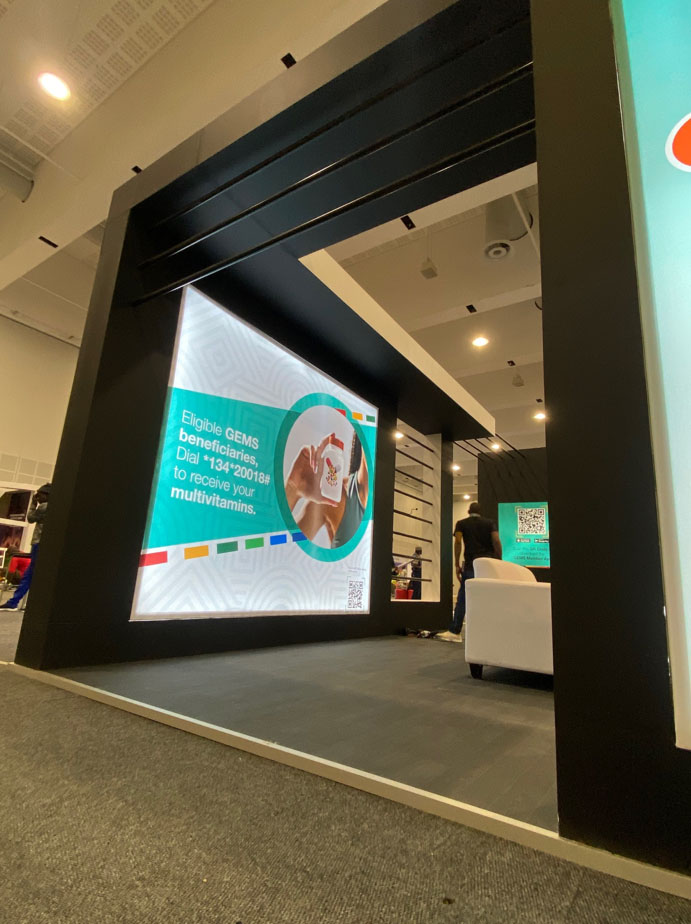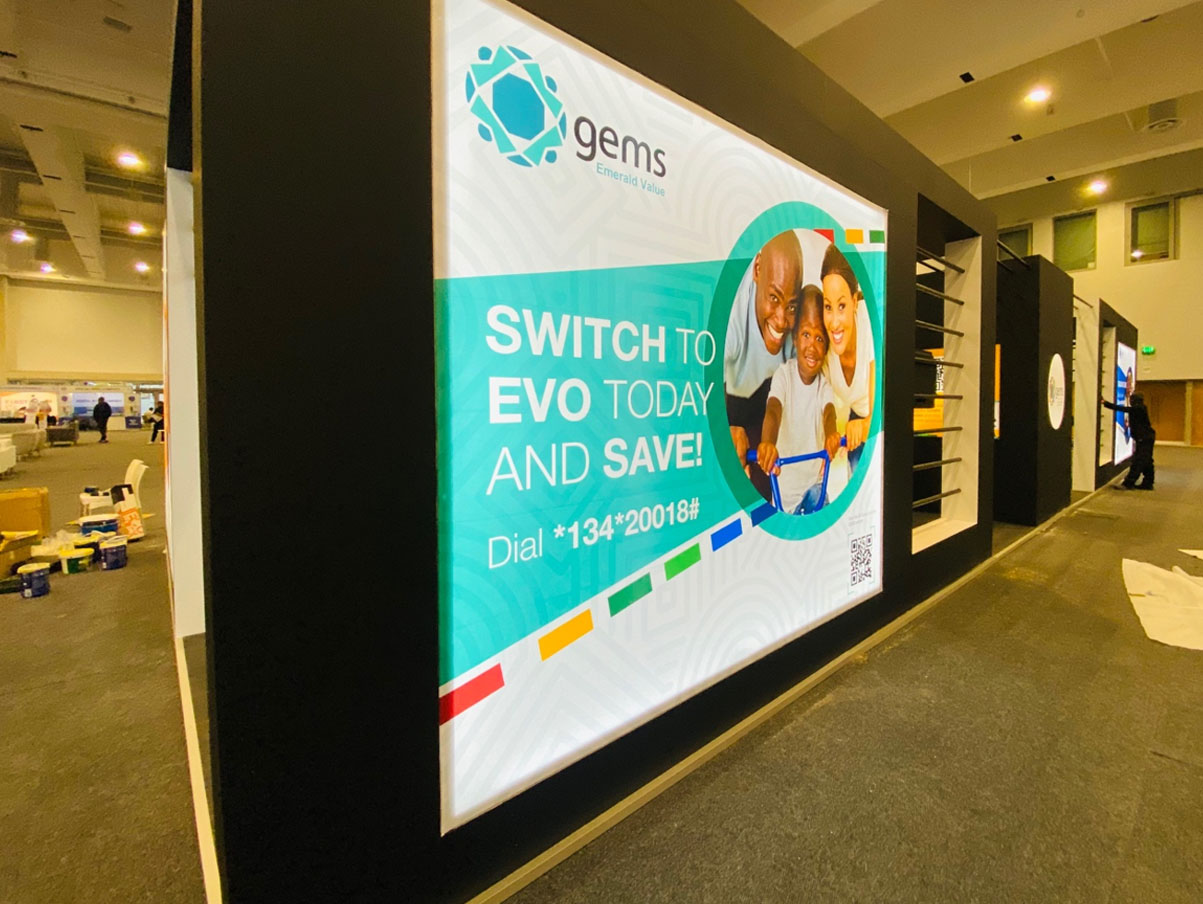 Gems entrusts Three6ixty with their photography needs nationwide, a partnership that extends to pivotal moments like Gems Days and prestigious Golf Days with the President. Our service goes beyond clicking pictures; we offer real-time photography, expert editing, and seamless social media posting. At the end of the day, a captivating short video reel of the photos ties the bow on a day filled with memorable moments, solidifying Gems' trust in our exceptional photography services.
GEMS Unique Promotional Items covering various campaigns
Beyond conventional offerings like pens and water bottles, we have meticulously crafted bespoke leather bags, discreetly branded condoms, coveted CLO gifts, air humidifiers, and trolley bags, each a testament to Gems' unique essence. These tangible tokens of distinction not only resonate but endure, forging enduring connections with Gems' audience.
Our work for Gems through 2D videos is a testament to our artistry. With precision and creativity, we've woven Gems' identity into captivating narratives, each frame exuding professionalism and leaving an indelible mark on viewers. Our contribution goes beyond animation; we meticulously crafted the script, artfully employed stock video elements, and added a compelling voice-over. These videos, tailored for Gems' social media platforms, serve as dynamic magnets, drawing in increased traffic and driving sign-ups, further elevating Gems' digital presence and engagement.